Tuesday, September 21, 2021 ( 4:30 pm - 5:30 pm CET)
WEBINAR
The future of the world seen by a data scientist: data and AI as universal keys
Alex Pentland, one of the most influential Data Scientists in the world, sees the realization of a new world, a world in which data is the new oil and AI the only machine able to refine it.
Starting from the key themes present in his forthcoming book "Building a new Economy", Pentland will outline the features of this new ecosystem of data and algorithms to which everyone, from States, to companies, to people, need to adapt quickly in order not to fall behind.  
Some are already preparing for this new world and, starting from their example, Pentland, will help us to identify how to get ready for this "New Economy".
He will discuss the following topics:
data as capital: sources, security, regulation and ethics
new ways to use data and AI in business
new platforms and ecosystems
the forerunners of the new data economy.
Program
Tuesday, September 21, 2021
4:30 pm - 5 pm CET

5 pm - 5:30 pm CET
---
Alex Pentland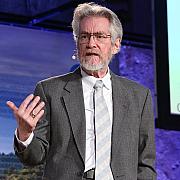 Director, MIT Connection Science
Alex "Sandy" Pentland heads MIT Connection Science, an initiative of MIT, is Professor of Media Arts and Sciences at MIT and is Director of the MIT Media Lab Entrepreneurship Program. He previously helped create and manage the MIT Media Lab and Media Lab Asia in India. He is one of the most cited computational scientists in the world, and Forbes recently declared him one of the 7 most powerful data scientists in the world, together with the founders of Google and the Chief Technical Officer of the United States.
He is a member of the board of directors of the UN Foundation called Global Partnership for Sustainable Development Data, he co-led the discussion at the World Economic Forum in Davos that led to the European Data Privacy Regulation (EU GDPR), and was central to defining the transparency and accountability mechanisms of the UN's Sustainable Development Goals.
He has won numerous prizes and awards from international organizations for his work on data privacy.
He is a member of several Advisory Boards for the UN Secretary General, the UN Foundation and the American Bar Association, and previously for Google, AT&T, and Nissan.
His research team has founded more than 30 companies and pioneered computational social science, organizational engineering, wearable computing and modern biometrics. His research has been published in the magazines Nature, Science and Harvard Business Review and has been the subject of television reports on BBC World, Discover and Science.
His most recent books are Trusted Data (2016), Social Physics (2014) and he is about to publish Building the New Economy (October 2021).